WeMa Antonius Pigge GmbH - Stockist for used machines
Machinelist:
---
---
Trader Profile: Wema Antonius Pigge GmbH
---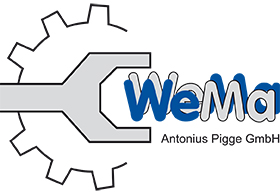 Contact Trader
---
Profile of Trader
About Us
The company WeMa Antonius Pigge GmbH welcomes you to the site and would like to introduce itself briefly below:
For more than 30 years Mr. Antonius Pigge, company founder and CEO, is operating in the machine sector.
We focus on the purchase and sale as well as the placement of new and used machine tools and sheet metal working machines and complete factory equipment at national and international level. Also, we will take care of the discrete completion of company dissolutions.
On a warehouse space of about 4500 m² of warehouse space, we offer a wide range of overhauled and partly overhauled, function-tested machinery, mostly ready for demonstration and immediately available (mainly for metal-processing operations).
As a professional partner we provide our customers with advice and support. We give highest priority to our customers' needs to find the best solutions for them.
Let us convince you of our services.
Years of experience, expertise, technical know-how and the international connections enable us to offer used high quality machines at attractive rates. We can guarantee fast and easy handling.
Take advantage of these one-stop services:
purchase
sale
placement
removal
transport organization
complete handling
Increase your productivity - we are happy to help you!
Address
WeMa Antonius Pigge GmbH
Barnstorfer Str. 3
49424 Goldenstedt
Germany

Contact
Phone: +49 (0) 4444-9670-0
Fax: +49 (0) 4444-9670-10
E-Mail: info@wema-pigge.de
Web: www.wema-pigge.de

---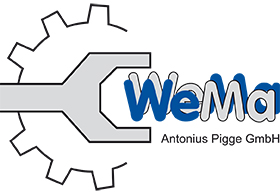 Wema Antonius Pigge GmbH
Barnstorfer Str. 3
Contact Trader
Wema Antonius Pigge GmbH
Barnstorfer Str. 3
49424 - Goldenstedt
Deutschland
+49 (0)444496700
+49 (0)4444967010
info@wema-pigge.de
www.wema-pigge.de
Contact person:
---
---
Machine category
Abkantpresse - hydraulisch · Airless- und Farbspritzgerät · Arbeitstisch · Bandschleifmaschine · Bandsägeautomat - Horizontal · Bearbeitungszentrum - Vertikal · Blechrundbiegemaschine · Bohrerschleifmaschine · CNC Drehmaschine · Doppelständerpresse - Hydraulisch · Drehmaschine - zyklengesteuert · Einständerexzenterpresse · Einständerpresse - Hydraulisch · Fahrständerfräsmaschine · Flachschleifmaschine · Flachschleifmaschine - Horizontal · Flügeltürenschrank · Fräsmaschine - Universal · Förderband · Gabelstapler - Elektro · Gesenkbiegepresse · Hydraulische - Abkantpresse · Hydraulische Lochstanze · Industrie-Staubsauger · Kaltkreissäge · Kompressor · Konsolfräsmaschine · Kopierfräse · Kreissäge - Automatisch · Lagertechnik · Leit- und Zugspindeldrehmaschine · Magnetbandförderer · Nuten-Stossmaschine · Planscheibe · Profilstahlschere - Kombiniert · Radialbohrmaschine · Regalanlage für Paletten · Reihenbohrmaschine · Richtpresse - Doppelständer · Rohrbiegemaschine · Schnellradialbohrmaschine · Schrauben Kompressor · Schraubstock · Schubmaststapler - Elektro · Schweißanlage · Schweißdrehtisch - rund · Schweißmaschinen · Schwerlastanhänger · Senkerodiermaschine · Spannmittel · Spanntisch · Ständerbohrmaschine · Säulenbohrmaschine · Tafelschere - hydraulisch · Tischkreissäge · Transportsysteme · Tuschierpresse · Umreifungsmaschine · Unterstellbock · Ventilator · Wasserschlitzfräse · Werkstattpressen - hydraulisch · Werkzeugfräsmaschine - Universal · WIG-Schweißgerät ·