Machinelist
SHW Werkzeugmaschinen Service GmbH
---
---
Purchase one of several universal milling machines
Used Universal Milling Machines from LagerMaschinen
When choosing a machine for your newly opened or expanding business it can sometimes be overwhelming to find that new machines are far out of your price range. However production growth sometimes depends on purchasing new equipment tools and machines. In this case a used machine may be the perfect solution for you. LagerMaschinen provides a platform for buyers and sellers to have their business and budgetary needs met in an efficient manner. By purchasing universal milling machines through LagerMaschinen you'll not only be saving yourself time and money you'll also be forming connections in your field. Additionally LagerMaschinen's delivery and installation services mean your universal milling machines can be up and running in no time.
Universal Milling Machines for every production branch.
Universal milling machines are used in a variety of different branches of production industry. Milling machines are useful for planing drilling and keyway and slot cutting. Whether your particular industry requires a horizontal mill or vertical mill LagerMaschinen will find something within your specifications. Search in your area for the most immediate solutions and communicate with sellers to find the universal milling machines that best fit your needs. Are you looking for a CNC mill? LagerMaschinen's delivery and installation services mean you won't need to install and route computer hardware to your new universal milling machine. Search for computers and software corresponding to the CNC universal milling machines rather than purchasing these items new and spending a fortune. Find your next machine at an affordable price with LagerMaschinen.
Get your next travelling column milling machine here!
The right travelling column milling machine for you at LagerMaschinen
A travelling column milling machine is a crucial tool in the field of industrial metalworking and machining. Milling machines differentiate themselves from metal cutting processes by utilizing a moving spindle or cutting surface. The workpiece remains stationary while the spindle moves on 2 - 3 axes performing both basic and intricate cuts. If you're in the market for a travelling column milling machine check out the wide variety of used equipment available at LagerMaschinen.
Find the best metal cutting products at LagerMaschinen
Milling machines are extremely versatile in the finishing processes of metals and other solid materials. With such a wide array of machines available in this day and age finding the right travelling column milling machine for you may seem daunting. But it doesn't have to be. By browsing LagerMaschinen's user-friendly site you can search for your next travelling column milling machine based on your location your price range or a specific model. Buying used machinery online saves you not only time but money!
Buying used machinery online is a quick and easy process
Buying used machinery doesn't mean you have to sacrifice quality for the sake of your budget. You can find a lightly used machine like a travelling column milling machine based on the unique needs of your business. If you are concert with transport costs search by location. If money is the main issue search by price. No matter what your priorities are you can find a travelling column milling machine or any other equipment easily at LagerMaschinen.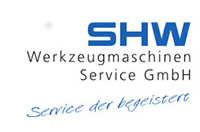 SHW WerkzeugmaschInen Service GmbH
Alte Schmiede 1
Contact Trader
Machine category
· Aufspannplatte · Aufspannwinkel · Bearbeitungszentrum - Universal · Bohrwerkslünette · Fahrständerfräsmaschine · Fräskopf senkrecht · Längenmeßgerät · Spannfutter · Späneförderer ·