Moulds up to 1000 KN
Machinelist: Moulds up to 1000 KN
---
---

Gustav Schönberger GmbH
Hünderstr. 14
74080 Heilbronn
Deutschland

---

(0049)7131 46060
(0049)7131 460620
schoenberger@gsh-maschinen.de
www.gsh-maschinen.de
#1036-11105

·

Moulds up to 1000 KN
KRAUSS-MAFFEI - KM 80-180CX

- - 2015 -
Technical details
injection volume
2025
ccm︱closing pressure
800
kN︱weight of the machine ca.
3,9
t︱dimensions of the machine ca. m︱total power requirement kW︱plastic material 0︱
---
MC6 SGM control Technische Daten / technical details: Schliesskraft / closing pressure 80 to Innenbreite zwischen den Säulen / inner width between columns 420x420 mm Plattengröße / plate size 725x725 mm Werkzeugeinbauhöhe min. / workpiece daylight min. 350 mm Plattenabstand / plate distance 850 mm Einspritzeinheit: / injection device Schneckendurchmesser / screw diameter 25 mm Spritzdruck / injection pressure 2025 bar Gewicht der Maschine ca. / weight ca. 3900 Kg Technische Daten, Zubehör und Beschreibung der Maschine sind unverbindlich - Technical data, accessories and description of the machine are not binding.

Gustav Schönberger GmbH
Hünderstr. 14
74080 Heilbronn
Deutschland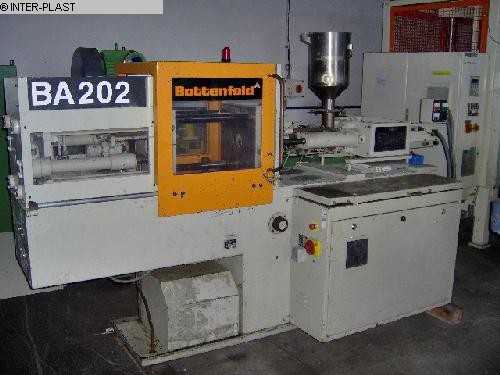 ---

INTER-PLAST
42-209 Czestochowa

---

+48 343 627 904
+48 785 198 061
iweta@inter-plast.com.pl
www.inter-plast.com.pl
#1129-213

·

Moulds up to 1000 KN
BATTENFELD - BA 202

- - 1985 -
Technical details
plastic material ︱injection volume ccm︱closing pressure kN︱total power requirement
14
kW︱weight of the machine ca. t︱dimensions of the machine ca. m︱
---

INTER-PLAST
42-209 Czestochowa
---