Machinelist
EKW Werkzeugmaschinen e.K.
---
---
Get a used horizontal machining center from LagerMaschinen.
LagerMaschinen can provide you with a used horizontal machining center.
A horizontal machining center is a machining tool used to machine materials such as metal and wood. In contrast to a vertical machining center the cutter on a horizontal machining center is oriented horizontally meaning the machine will cut horizontally. Furthermore the cutters are not stationary one can move the cutters along a radius giving you more flexibility with your machining. Some variations of the horizontal machining center include a table that rotates as well giving you universal pivoting while you are working. These machines come in all sizes from small tabletop machines to machines the size of a large room. Many also work with computer numerical control (CNC) while others are operated manually or mechanically. Regardless of the type of horizontal machining center you need LagerMaschinen is sure to have a machine that safely satisfies your needs.
LagerMaschinen guarantees quality used machines for all your needs.
Your company may have a number of reasons to purchase a horizontal machining center: these machines can be used to cut grooves in materials to create contours and puncture holes. If your business involves machining in any form a horizontal machining center is an essential part of your equipment. However the cost of new machines can sometimes be prohibitive in particular for small and medium-sized companies. LagerMaschinen has a worldwide network and ensures that its used machines meet rigorous standards so that you do not lose quality. Buy a used horizontal machining center from LagerMaschinen and rest assured that you have a quality product.
Find your next single column vertical turret lathe here
The best single column vertical turret lathe for your needs
Lathes have stood the test of time in terms of reliability durability and ease of use. Their functions have broadened over time to include a wide range of uses on a large number of different materials. A single column vertical turret lathe is ideal for the rapid and efficient cutting of metal parts. In general turret lathes offer operators a high level of productivity with very little manpower required as they are often operated by jig mechanisms or Computer Numerical Control (CNC).
Used machines are a smart business investment
A single column vertical turret lathe is an extremely practical and cost effective investment for any metalworking business. The stability offered by the vertical turret is well suited to working on heavy or bulky pieces. Essentially a single column vertical turret lathe operates as a large-scale pottery wheel for metal. Although vertical lathes are extremely functional finding one that suits both your needs and your budget can be daunting. Check out LagerMaschinen for the best selection of used machinery.
Find the best in used machinery at LagerMaschinen
LagerMaschinen is your one-stop-shop for used machines. Shopping for machinery can be a tiresome process but shopping online using LagerMaschinen's user-friendly platform takes the hassle out of the affair. Search by price location or model and find your next single column vertical turret lathe or any other metalworking equipment you need and maximize both your time and money. Investing in used equipment is a smart move for any business owner!
Find a deephole boring machine to suit your needs
Finding the right deephole boring machine for you
Deephole boring is a process often associated with the production of gun barrels. Modern technology has enabled the deephole boring machine to produce holes of incredible length relative to their diameter. Gun barrel drilling is one of several types of deephole boring techniques. Others include Single Tube System (STS) and ejector drilling. The right type of deephole boring machine for you depends on the thickness of the material being drilled and the hole diameter-to-length ratio.
LagerMaschinen has the best selection of deephole boring machines
Deephole boring is a process that requires high levels of precision and accuracy. The process is fundamental in a variety of industries including auto manufacturing and aviation. Finding the right deephole boring machine may seem like a daunting process but it needn't be. You can find a wide variety of these machines at LagerMaschinen where you can easily narrow your search by price location or brand. This ensures that you can find the best used deephole boring machine for your needs without breaking your back or your budget.
Get the most for your time and money at LagerMaschinen
Shopping online is a practical solution for busy business owners. As saving time and money is something that is universally appealing do both by shopping for your next deephole boring machine or any other used machinery at LagerMaschinen. Used machines are high quality products at low prices offering you the best of both worlds. Search for a deephole boring machine based on price or location and enjoy a quick and easy shopping experience. LagerMaschinen takes the hassle out of outfitting your business.
Used broaching machines and more at LagerMaschinen
Broaching machines are efficient and affordable
Broaching machines are crucial to the machining of metals. They are used to make uniquely shaped holes, such as key holes. Broaching machines are most commonly subdivided into vertical and horizontal models, the former being the more favoured of the two as it takes up much less space in a workshop. Used broaching machines are known not only for their precision cutting, but also for their efficiency. Investing in used machines doesn't mean sacrificing quality. When shopping for your next broaching machines, check out LagerMaschinen.
Wire drawing machines are a great investment
Wire drawing machines are another key piece of equipment in the field of metalworking. As the name indicates, wire drawing machines are used to produce wires of varying thicknesses. Wire drawing machines can also be used to produce wires of glass, an important component of the fibre optics industry. Wire drawing machines are essential for enhancing the tensile strength of wires. Investing in used wire drawing machines provides you with the same high quality equipment at a fraction of the cost of buying new.
Slotting machines for all possible situations
Slotting machines are used to create slots in a variety of materials, like metals and plastics. Slotting machines employ a die to remove material in a specific shape. They are efficient, reliable and relatively small in comparison with other industrial cutting or stamping machines. If you're in the market for slotting machines or any other equipment for your home workshop or business, why not invest in used machines. LagerMaschinen is the best online marketplace for used machinery, offering customers a hassle-free shopping experience.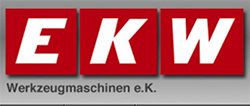 EKW WerkzeugmaschInen E.k.
Zeppelinstrasse 1
Contact Trader
Machine category
4-Walzen - Blechbiegemaschine · Abkantpresse - hydraulisch · Bearbeitungszentrum - Horizontal · Bearbeitungszentrum - Universal · Bearbeitungszentrum - Vertikal · Bettfräsmaschine - Universal · Drahterodiermaschine · Ersatzteile · Exzenterpresse - Einständer · Flachschleifmaschine - Horizontal · Fräsmaschine - Universal · Handhebel-Schere · Handhebelfräsmaschine - Horizontal · Karusselldrehmaschine - Einständer · Laserschneidmaschine · Lötanlage · Messestand · Nachdrehbank · Plattenbohrwerk - Traghülse · Radialbohrmaschine · Rohrbiegemaschine · Rundschleifmaschine - Universal · Rundtaktmaschine · Schutzgasschweißanlage · Schweißkantenabschrägmaschine · Schwenkbiegemaschine · Spannfutter · Stanz- und Nibbelmaschine · Stufenpresse · Tafelschere - hydraulisch · Tafelschere - mechanisch · Tieflochbohrmaschine · Tischbohrwerk · Transportwagen · Tuschierpresse · Waage · Werkstattpresse - hydraulisch · Werkzeugfräsmaschine - Universal · Werkzeughalter · Werkzeugschleifmaschine - Universal · Zahnrad-Abwälzfräsmaschine - vertikal · Zahnradschleifmaschine · Zubehör ·