Other Metal Processing
Machinelist: Other Metal Processing
---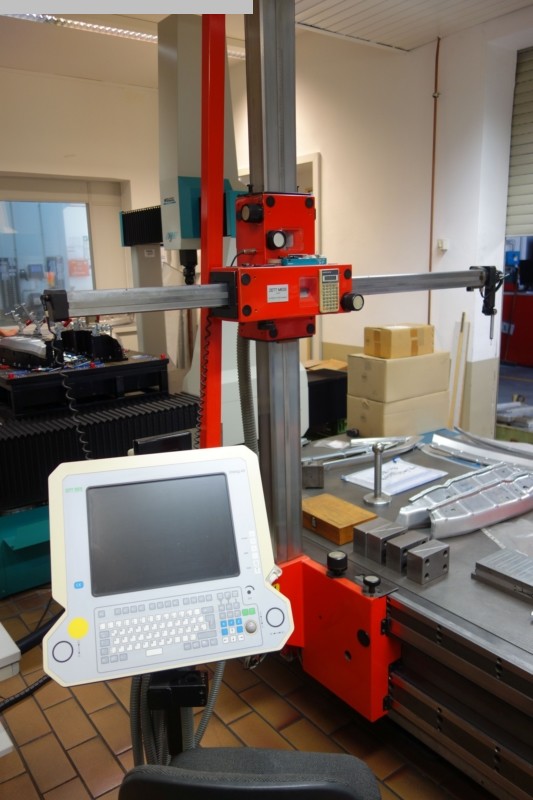 ---

Karl Günter Wirths GmbH
Scharpenberger Strasse 96-98
58256 Ennepetal
Deutschland

---

02333-79050
02333-790555
sales@wirths.net
www.wirths.net
#1041-26739

·

Measuring Machine
ZETT-MESS - AMS 14/12

- - 1992 - ZM
Technical details
x-travel
1400
mm︱y-travel
1200
mm︱z-travel
1000
mm︱Control
ZM
︱total power requirement
0,5
kW︱weight of the machine ca.
2
t︱dimensions of the machine ca.
2 x 1,5 x 2
m︱
---
---
Trader Profile: Karl Günter Wirths GmbH
---

Contact Trader
Karl Günter Wirths GmbH
Scharpenberger Strasse 96-98
58256 Ennepetal
Deutschland
02333-79050">02333-79050
02333-790555
sales@wirths.net
www.wirths.net
---
Profile of Trader
About us - Wirths GmbH in Ennepetal
.Karl G. Wirths founded the company in 1956 as a mechanical workshop. 1961 he developed a die shop for pressing and forming dies. In that time 30 employees were working as die makers in the work shop.

Parallel Karl G. Wirths started a shop for refurbishment of machine tools. That was also the start for the machine tool business.

The die shop was closed 1972 but the machine tool business was developed.

In 1972 the first stock was erected. Up to now buildings with up to 50 t crane capacity.

In that stock we always keep approx. 250 machines.

We are not focused on a one time business but on a long term business relative with our domestic customers and customers from all places around the world.

Contact us
Karl Günter Wirths GmbH
Scharpenberger Str. 96-98
D-58256 Ennepetal / Germany
---
Other used metal working machines are available online
Finding other used metal working machines is just a click away
Metal working machines come in a huge variety and shapes and sizes and have an equally large number of functions and applications. Handy men and business owners alike need quality metal working equipment that won't break the bank. Investing in used machines is the ideal compromise. You don't have to sacrifice quality in the name of money when you invest in used machines. Lathes, presses and other used metal working machines are available at LagerMaschinen. The advantages of shopping online for other used metal working machines are clear: you can shop quickly and easily from home or office, anytime day or night, and you can filter your searches based on location, price or brand name in order to find the best drills, saws or other used metal working equipment for your needs.
All other used metal working machines at your fingertips
No matter what sector you work in, metal working equipment often plays a crucial role in your business's efficiency and productivity. Given the current economy, buying new equipment isn't always a feasible option for many businesses. That's where LagerMaschinen steps in. From cylindrical grinding machines to machining centres and any other used metal working machines in between, you can find the best selection of used machines at LagerMaschinen. LagerMaschinen's user-friendly search platform puts Europe's biggest machinery marketplace at your fingertips. The ability to browse for large-scale machines online takes the hassle out of the machine buying experience. Whether you're looking for planers, presses, lathes or any other used metal working machines, you'll find the best selection at LagerMaschinen.

Karl Günter Wirths GmbH
Scharpenberger Strasse 96-98
Contact Trader
Karl Günter Wirths GmbH
Scharpenberger Strasse 96-98
58256 Ennepetal
Deutschland
02333-79050
02333-790555
sales@wirths.net
www.wirths.net
Contact person:
---
ACHTUNG: NEUE FAX Nr. 02333 790555
---
Machine category
Abkantpresse - hydraulisch · Anreißplatte · Aufspannplatte · Bandschleifmaschine · Bandsäge - horizontal · Bandsäge - Vertikal · Bearbeitungszentrum 5 Achs · Bearbeitungszentrum - Universal · Bearbeitungszentrum - Vertikal · Bohrwerkstisch · Bügelsäge · Bügelsäge - Automatisch · CNC Drehmaschine · Doppelständerpresse - Hydraulisch · Doppelständerziehpresse - Hydraulisch · Drehmaschine - zyklengesteuert · Dreiwalzen - Blechbiegemaschine · Einständerexzenterpresse · Einständerpresse - Hydraulisch · Endenbearbeitungsmaschine · Flachschleifmaschine - Horizontal · Fräsmaschine - Universal · Gabelstapler · Handhebel-Schere · Innenschleifmaschine · Karusselldrehmaschine - Einständer · Kreissäge - Automatisch · Mechanikerdrehbank · Messmaschine · Plan- und Spitzendrehbank · Plattenfeld · Pneumatische Presse · Profil- Ring- Biegemaschine · Querteilanlage · Radialbohrmaschine · Richtmaschine · Richtplatte · Richtpresse - Einständer · Rohrbiegemaschine · Rundschleifmaschine · Rundtisch-Bohrungs-Schleifmaschine · Schleifbock · Schwenkbiegemaschine · Senkerodiermaschine · Spindelpresse · Spitzendrehmaschine · Stangenzuführung · Stanzautomat-Doppelständer · Säulenbohrmaschine · Tafelschere - hydraulisch · Werkzeug Voreinstellgerät · Zahnrad-Abwälzfräsmaschine - vertikal · Zahnradstossmaschine ·